A short story about NOx in Germany
---
"In areas of high motor vehicle traffic, such as in large cities, the nitrogen oxides emitted can be a significant source of air pollution.
The term NOx is chemistry shorthand for molecules containing one nitrogen and one or more oxygen atom. It is generally meant to include nitrous oxide (N2O), although nitrous oxide is a fairly inert oxide of nitrogen that has many uses as an oxidizer for rockets and car engines, an anesthetic, and a propellant for aerosol sprays and whipped cream. Nitrous oxide plays hardly any role in air pollution, although it may have a significant impact on the ozone layer, and is a significant greenhouse gas." - Wikipedia
There are over 400 measuring stations spread over Germany. Equipped with all sorts of sensors and are segmented into different categories they are measuring the air pollution on heavy used streets or nearby industrial areas. I have visualized that with the Voronoi diagram which helps us to determine how large some areas with only one station actually are. Most are located in or near big cities.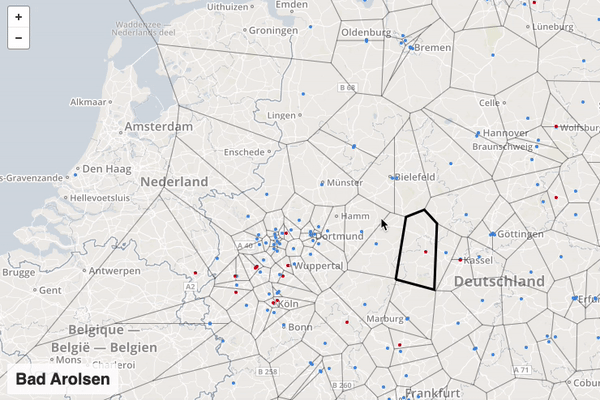 Play with the Voronoi projection
Let that quote sink in for a minute: "The hearts of people who live in polluted areas are weaker than those who regularly breathe cleaner air, according to a new study which adds to the growing volume of evidence that fossil fuels are killing us." It's from The Independent and it states that we, among other polluters, have massive problems with diesel cars. That is mainly because they emmiting a much smaller particulate matter which is significantly longer airborne and gets transported directly in our lungs and blood.
City areas in detail
To visualize the overall issues with NOx I decided to go down on city level. This shows in what part of the city how many days the limit of 200 µg/m3 has been exceeded. This limit is the official eurpean wide limit issued by the Umweltbundesamt.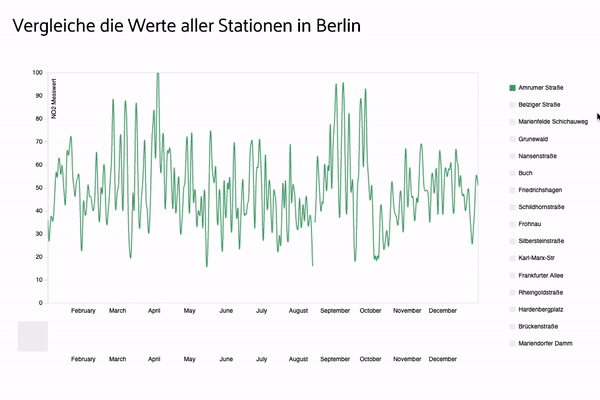 Explore the measurement stations in Berlin
This map shows where the measurement station in Berlin are located and what data they measured in the last year. By scrolling through the different locations the map brings you to the corresponding location. Watch the tremendous difference between "Berlin Buch" and the "Hardenbergplatz".